LeBron James Is Ready To Settle This GOAT Matter With Michael Jordan Once And For All
Joke or not ... where can we preorder tickets?!
October 29, 2018 at 8:44 pm
Sunday Night Football is about to be extra entertaining for football fans, as this following Sunday, November 4, will see the Green Bay Packers face the New England Patriots, according to USA Today. That means a showdown between star quarterbacks Aaron Rodgers and Tom Brady.
NBC released a commercial to promote the much-anticipated game and enlisted someone else who may have felt the pressure of the "GOAT" label before to help get the word out: Michael Jordan.
This is a brilliant commercial. Only one problem, the debate is settled already. Tom Brady is the best. OK, bye now pic.twitter.com/xqMqqp5Pku

— Jemele Hill (@jemelehill) October 29, 2018
The commercial features Jordan talking about the ongoing debate about who the greatest athlete of all time is. The former Bull says, "It's a tough call," and lists all the things that make it so hard to choose: "the titles, the raw talent, the most clutch moments." Jordan says when looking at the top contenders, "even the jersey numbers are the same."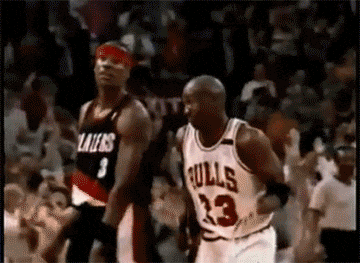 Of course, all of this makes it seem like he's comparing himself to LeBron. However, the commercial ends by showing Brady and Rodgers, both number 13, suiting up.
LeBron saw the commercial and was more than ready to pick up the gauntlet Jordan had thrown down. The new Lakers star jokingly tweeted he'd be more than happy to play 23 one-on-one to settle things once and for all:
IM READY!!!! Oh my bad I thought, maybe u were, umm never mind back to my regular schedule program https://t.co/4JmeesffNu

— LeBron James (@KingJames) October 29, 2018
HAHA, good one! We can't say we wouldn't be first in line to see such a matchup. Someone make that happen, please.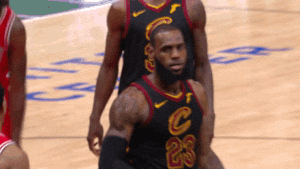 As ESPN reports, James is expected to pass Jordan's 32,292 all-time points this season to secure his fourth place spot on the all-time points chart.
Liking this content? Check these out:
LeBron James' One-Liner About White People Is A MOOD
LeBron James Shows Beto O'Rourke Love While Down In Texas
Golden State Warriors Dance To Remix Of Fergie's National Anthem Rendition In Hysterical Clip