Milwaukee Bucks Player Brandon Jennings' Neighbors Have Reportedly Called The Cops On Him 30 To 40 Times
Jennings has thrown parties and has been the source of numerous noise complaints.
As we know, a simple call to the police can quickly escalate into something dangerous when person being investigated is black.
Noise complaints are common and often end in warnings, but one basketball player has been the source of an alarming number.
TMZ Sports reports neighbors have been complaining about Brandon Jennings of the Milwaukee Bucks and his penchant for throwing loud parties. Cops recently went to the point guard's Los Angeles home on July 5 due complaints about "an insanely loud" party. While no arrests were made, neighbors claimed it was at least the 30th time they've called the police on the athlete.
"I have nothing against parties," said one of the neighbors, Ivan Kuznetsov. "Partying is nice. It's just not the right place with everyone trying to sleep." Kuznetsov is also concerned with the frequency of Jennings' parties.
Other neighbors complained Jennings treats the area like a "nightclub." They say their neighborhood is a place for families and children, not for loud parties. The neighbors noted the last resident in Jennings' home was rockstar Slash, and they claim the rocker wasn't nearly as loud as Jennings.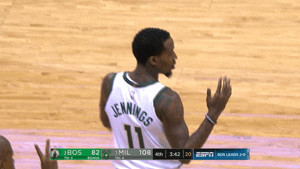 Apparently the neighbors have banded together to strategize a solution for Jennings' parties using the neighborhood social network app, Nextdoor. TMZ reached out to Jennings for comment, but have not received a response at the time of this article's posting.
Now, check these out:
How This Milwaukee Photographer Is Using His Art To Honor His Mother And Millennial Women Of Color
'This Could Be Bad:' Milwaukee Officials Fear Releasing Footage Showing NBA Rookie Being Brutally Tased By Cops
These Four Spoken Word Artists From Milwaukee Are Using Their Talents For A Greater Cause