News
Slim Thug Shot His Best Shot In Rihanna's DMs After She Posted Herself In Savage X Fenty
We just gonna sit here perched for Rih's "savage" response, tho.
Photo Credit: Photos: TMZ ; Instagram
Rihanna has been going full force promoting her lingerie line, Savage X Fenty and, in doing so, often models her wares herself.
The singer and beauty mogul has been using Instagram to her advantage, enticing potential customers by posting Instagram Stories featuring the sexy pieces. And it's been working! The collection sold out a few hours after its May launch, and it's still going strong!
A recent social media post by the Fenty mogul had one particular Houston rapper deciding it was time to shoot his shot and DM Rihanna.
Slim Thug, we're talking about you.
Rih recently posted an Instagram story rocking a bra from the line, and Slim Thug certainly liked what he saw. Enough to slide in those DMs to let her know.
"What's a billionaire compared to a real n*gga," he wrote, referencing Rihanna's Saudi billionaire maybe-boyfriend. "Get with #SDS life gets better."
We don't know yet whether Rih responded, but there was no better time for the following GIF than there is now: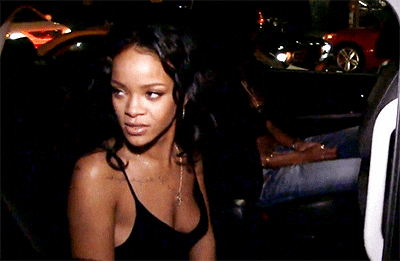 Liking this content? Check these out:
Rihanna Responds To Everyone's Memes About Her Argument With Her Boyfriend With A Hilarious Meme Of Her Own
Fenty Model Slick Woods Announces Pregnancy With The Flyest Picture Ever
If You're Worried Rihanna Abandoned Music For Fenty Beauty, Don't Worry, 'She Comin' Sis!'