This Father Doing His Daughter's Hair On The Subway Is The Cutest Thing You'll See Today
He better multi-task!
September 05, 2018 at 7:26 pm
Every commuter knows time management is a struggle. Typically, getting to the train or bus on time means having to schedule your daily tasks so you can get them done on the go. We've all seen the woman doing her makeup on the train or a kid rushing to finish up their homework on the bus.
Well, one father decided to make the most of his commute time by styling his daughter's hair, and it was the cutest commute image we've ever seen.
Holistic coach Scott Bernard was on his way to the Bronx when he saw a father braiding his daughter's hair on the No. 4 train. Awed by the display, Bernard took to Instagram to share it with the world so that they could be as inspired by the act as he was.
"This really touched ny HEART seeing this becuase I know one day I WILL become a father and would do ANYTHING for my children yesterday while I was on the 4 train coming from Brooklyn to the Bronx after training clients I seen this honorable father fixing his daughters hair and being a great example of what a REAL MAN should do for his kids before he left the train I said "God bless you my brother," Bernard wrote in the caption.
Yas, dad!
And we bet lil' mama's hair was fly, too!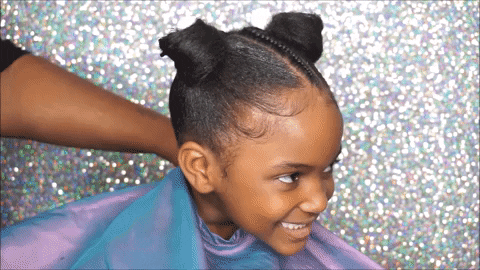 Liking this content? Check these out:
This Single Father Hosts Workshops To Teach Other Men How To Do Their Daughters' Hair
Director Matthew A. Cherry Is Delighting Hearts With His Upcoming Animated Short Film "Hair Love"