The 18th Encounters South African International Documentary Film Festival kicks off today, June 2, and runs through June 12, 2016 in Cape Town and Johannesburg.
The line up includes the world premieres of some ground-breaking and politically relevant South African documentaries, plus several new South African voices, including a number of compelling debuts.
Some of those local voices include:
— "Soweto the Times Of Wrath" by a group of young Sowetan filmmakers, Siphamandla Bongwana, Jerry Obakeng Gaegane, Stanford Gibson, Nduzo Shandu, Asanda Kupa and Gontse More opens the festival. The film concentrates on those excluded from the so-called South African dream, 20 years into democracy, depicting a country wearied by endemic corruption with frustrated activists (young and old) continuing the struggle for greater equality.
— "Precious Metal," a UK/SA short by Isis Thompson, takes another look at the Marikana massacre, only this time focusing on the women of the Wonderkop settlement. Theirs is a struggle against forgetting the tragedy and a demand for justice, despite continuing violence that ensues between rival unions and Lonmin.
— Other local shorts to look out for include "The Silent Form" in which director Simon Wood grapples with the essence of the artist Dylan Lewis and his work; and Roger Horn's beautifully crafted "These Objects Those Memories," which focuses on the mementos that émigrés carry with them. Both shorts receive their world premieres at the Festival.
— "Action Kommandt: The Untold Story of the Revolutionary Fighter Ashley Kriel" (image above) is Nadine Cloete's debut feature which exposes the story of anti-apartheid student activist Ashley Kriel. "This is the kind of documentary which we need in South Africa," says Els. "It is one which makes us confront our past making the voices and the actions of those who fought against apartheid visible to us." Recently the Hawks have reopened Kriel's case.
— "Alison," Uga Carlini's hybrid feature documentary on Alison Botha, is a deeply personal and emotional story of triumph and survival. Using a creative and innovative "fairytale" aesthetic, Carlini's film is a poetic and insightful exploration of trauma and overcoming.
Beyond South Africa, a number of acclaimed portraits and documentaries which reflect on the challenging times in which we live will be shown in South Africa for the first time:
— "Maya Angelou: And Still I Rise," directed by renowned writer Rita Coburn Whack, together with Bob Hercules, pieces together the life of prejudice and oppression that made the seminal author of "Í Know Why The Caged Bird Sings" the great, inspirational writer whose name defies categorization.
— Jihan El-Tahri's revealing profile, "Nasser," offers a rare insight into the social justice agenda of an Egyptian president whose revolution and the Suez Crisis defied the West. Features candid interviews with revolutionary Free Soldiers, the Muslim Brotherhood and other political groups.
— "Mapplethorpe: Look at the Pictures" from directors Fenton Bailey and Randy Barbato, traces the controversial artist from his middle-class, small-town upbringing, to his success in the 1980s New York art world, until his death in 1989 from Aids-related illness. The documentary follows both the pictures and the man, enriched by interviews with curators, celebrities, models, lovers and family from archival audio.
— "Shadow World" is based on former South African ANC MP Andrew Feinstein's acclaimed book on the global arms trade. Director Johan Grimonprez takes audiences deep into the murky world of illicit deals, corrupt governments and arms dealers worldwide, revealing the true makers of a reality that ensures we will never be at peace.
— "Requiem for an American Dream" is said to be the last full-length interview by one of the world's most important intellectuals; Noam Chomsky gives a definitive and thought-provoking account of global inequality and how wealth and power has come to rest in the hands of the select few.
— "A Syrian Love Story," directed by Sean McAllister, is described as a "Bergmanesque" portrait of love against a tumultuous political backdrop. With thousands fleeing Syria towards Europe, it is easy to relegate refugees' stories to sensational newspaper headlines and political banners. This is the story of one man, the people he loves and the country that hates him. A reminder that in every political situation, are ordinary people who love, laugh, dream and fight.
Also included in the lineup are films that focus on the plight of children around the world, including:
— "Walking In My Shoes," which profiles the story of Siphilele, who trudges 15km to school (spruce in the yellow school shirt he ironed that morning) and Nompilo, who has to walk two hours home from school, and must still fetch 50 litres of water from the communal tap. An elegant, well-researched, beautifully shot and informative film on the lack of transport facing rural learners in South Africa.
— "Train to Adulthood."  Budapest Railway, a Communist relic, survives and thrives offering more than 500 children a refuge from the poverty of their capitalist reality. The award-winning documentary presents a gorgeous, heart-rending coming of age saga raising the question of what is childhood?
In addition, those who love dance and music will be offered a rare glimpse into different artistic world's from as far as Cuba in "Horizontes" – soloists at the Ballet Nacionale de Cuba – to black street dancers in Sweden in "Martha & Nikki," and secret (and illegal) desert dance parties in "Raving Iran."
Musical diversity is further explored in "A Magical Substance Flows into Me" on a spiritual journey of the Israeli/Palestinian territories; "Sonita," profiling an outspoken female rapper from Afghanistan; "I Shot Bi Kidude," on the famous Zanzibari-born Tanzanian Taarab singer; and in South African director Nhlanhla Masondo's "Shwabada," on the renowned musical historian and philosopher Ndikho Xaba.
Additional films from around the world include "Cameraperson" by the award-winning US documentary cinematographer Kirsten Johnson who worked with Michael Moore and Laura Poltras; the Brazilian documentary "Boy 23," unearthing the country's hidden Nazi sympathisers; "Hooligan Sparrow," an award-winning Chinese film exposing sex abuse and the rights of sex workers in modern China; and British documentaries "Chemsex," on the London gay scene, and "Notes of Blindness."
Chilean master documentarian Patricio Guzman's latest work "The Pearl Button," is a film on water, and will also be shown alongside award-winning continental Africa documentaries "The Revolution Won't Be Televised" from Senegal and "The Night is Fading" from Algeria. Other African documentaries selected include "The Pearl of Africa" from Uganda, and "A Present From the Past" from Egypt.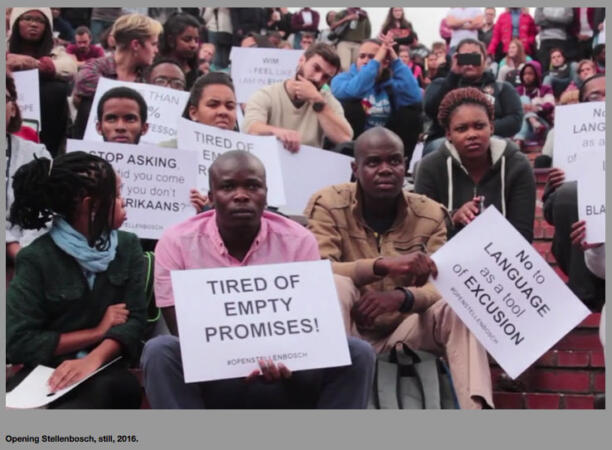 Additional South African documentaries to be shown include Aryan Kaganof's "Opening Stellenbosch: From Assimilation to Occupation (part 1 & 2)," on the recent student-led #FeesMustFall movement at the university; Jean Paul Moodie's historic piece on the painting of ANC leader Chief Albert Lutuli as Jesus in "The Black Christ; Lost Tongue;" "Taking Stock ," Ben Stillerman's portrait of his Benoni shopkeeper father; and "Mr. Table Tennis," an inter-generational story set in the *new* South Africa.
"We've changed the way that South African shorts are presented at the festival adopting a visible format that audiences and film-makers will find more engaging and interactive," says festival director Darryl Els.
The line-up of international shorts includes "Art of Flying" from Holland (with "Horizontes"); "Famous in Ahmedabad" (with "Magical Substance") from India; "It's My Road" from Madagascar, on an elderly water bearer (with "I Shot be Kidude"); "Pink Boy," a gender non-conforming six-year old (with "The Pearl of Africa"), and "The Visit," from Egypt, on staged talks during a World Bank inspection on agricultural development around the Niger Delta.
South African shorts include Aryan Kaganof's "Lamentation" on soldiers' use of blackface; "Bunny Chatter," "Umva" on contemporary student struggles, "Alive & Kicking; the Soccer Grannies of South Africa," "Baba Nkomo Umelusi" and "Daily Dose" on ARV treatment.
With South Africa and The Netherlands recent signing of a co-production treaty, new international opportunities are opening up for local filmmakers. In the spirit of this co-operation, Encounters and EYE International present three exceptional contemporary Dutch films at this year's festival.
— "A Family Affair" – Tom Fassaert's family scrapbook with missing pages and blank spaces that makes meaning of memories and why we create them.
— "Strike A Pose"- Ester Gould and Reijer Zwaan's provocative documentary on the off-stage antics of the seven back-up dancers who accompanied pop star Madonna on her Blond Ambition World Tour in 1990.
— "Those Who Feel the Fire Burning" – Morgan Knibbe's harrowing, intimate and tender documentary of a migrant's journey to an unnamed European port city on a dinghy that capsizes.
For more information about this year's Encounters South African International Documentary Film Festival, visit http://www.encounters.co.za/.