Love For Michael B. Jordan Continues To Sour After He Uses Milk And Cereal In Latest Attempt To Convince Fans He Loves Black Women
"I like milk. I like chocolate milk — I love chocolate milk. And I like almond milk, strawberry milk."
While he is well known for delivering Killmonger's great lines in Black Panther, Michael B. Jordan is also known for his alleged penchant for dating non-black women.
Jordan has denied that he has a distaste for black women many times, but the rumors persist, and are often stoked by tabloid reports, such as The Daily Mail's recent piece on the actor dating Ashlyn Castro.
Photos of a recent boating trip in the Mediterranean Sea saw Jordan addressing the controversy once more via Instagram Live on Wednesday. He was apparently spotted with a white female companion, along with a male friend.
pic.twitter.com/kpZQe5QtS4— insert username (@onceuponAB) July 18, 2018
"Y'all are wylin' right now. Y'all are buggin' … yes, I'm on vacation right now, okay? I'm traveling around," Jordan said on the IG Live video. "News flash: it's not a lot of black women in Italy, okay? It's not, it's just not. Sorry … I'm reading through the comments and sh*t, y'all tearin' ya boy up. It's too much, man. Y'all doin' too much."
In trying to explain how he's truly equal opportunity when it comes to the ladies, Jordan drew on a comment that apparently referenced cookies and milk to make quite the … interesting comparison.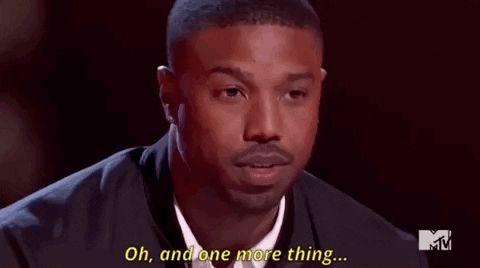 "I like milk. I like chocolate milk — I love chocolate milk. And I like almond milk, strawberry milk. You know the cinnamon toast crunch? The milk after that, I like that, too. That's pretty good. I like milk period. Y'all just doin' a lot. Y'all gotta chill," he added.
That comment definitely didn't sit well with some:
Michael B. Jordan just got on IG live justifying his love for white women. He said I love all "milk" including chocolate and vanilla. Fucking trash.— sistergirl???????????????? (@NeWWave_Female) July 18, 2018
Michael B. Jordan called women milk and said he drinks both vanilla and chocolate. "Is this ya king?!" indeed lmaooo— Call me AB (@ab_deuces) July 18, 2018
dairy milk??? really @michaelb4jordan??? pic.twitter.com/40lLTwOv8W— "whooptity scoop, poop"-thanos (@missbadue) July 19, 2018
Jordan also made it clear he's tired of being attacked for who he is rumored to date.
"Y'all gotta start putting more positivity out there. As a black man, you gotta do what you gotta do in the sense of you gotta enrich your community and what not. But you gotta stop putting out all this negative sh*t … why tear us down? For what?" he asked.
Liking this content? Check these out:
Michael B. Jordan Reposted A Music Video Praising Black Women And It Went All The Way Left
'I Ain't From Wakanda:' Michael B. Jordan Hilariously Rejects Wakanda Salute From White Interviewer
Michael B. Jordan Takes Time Out Of His Busy Schedule To Clapback At A Hater, And We're Loving His Response