#MeToo movement originator Tarana J. Burke took a well deserved step into the spotlight on her new cover of HANNAH Magazine.
Burke's work with the #MeToo movement landed her recognition as a "Silence Breaker" in TIME Magazine's person of the year issue. Although she was not seen on the actual cover of the publication, her work has not gone unnoticed. For that reason, she now has her own cover, and it's long overdue.
"So…I've been nervous about this for weeks," Burke wrote in an Instagram post on Thursday. "@Qimmahsaafir of @hannah.magazine is a visionary who deeply cares about the life, livelihood and well-being of sisters. Her and her team treated me so well on this shoot and the pictures are unlike any I've ever seen of myself, but I was still nervous because, well, it's hard to see what folks who care about you see – but easy to agree with hateful folks."
Ain't that the truth. However, we're so glad Burke has been able to ignore the haters and realize her beauty.
"This took a LOT for me," she continued. "I actually do love it. I love all of the pictures. I hope you all order the magazine and support this sister too because she is putting in work. Thank you, @qimmahsaafir for helping me to see myself through different eyes even for a little while."
A copy of the publication can be ordered online. Issue 3 of HANNAH features Burke speaking on the realities of her work, grounding black girls in their self-worth and the real MVPs of her 2017 media tour.
Congratulations, Tarana! We'll definitely be grabbing our copy.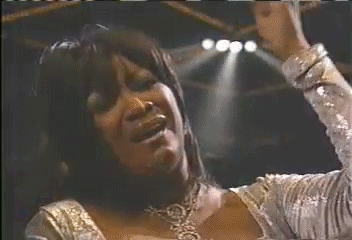 Photo: Giphy