Music
Remy Ma Defends Her Controversial Stance On Use Of 'N***a'
Of course, folks weren't here for it.
Photo Credit: Getty Images
Update (October 17, 2018): Remy Ma has doubled-down on her controversial stance on the word "n****r." The rapper defended her view (namely, that people of any ethnicity can use the N-word) in response to a fan's comment on Instagram that said they were "disappointed" in her statement but were "still team #BlackLove."
Like what you're reading?
Get more in your inbox.
The rapper suggested Black people focus on owning "property/real estate, life insurance, health insurance, degrees, etc." and concluded her statement by saying, "I'm not perfect, but I aspire to be the best that I can."
Original: After getting some side-eye for her defense of Bill Cosby, Remy Ma is getting major pushback for her hot take on the word "n****r."
As Wild 94.1 reports, the rapper spoke about N-word usage on the latest episode of the popular Revolt show State of the Culture. According to WGCI, the topic popped off when the hosts began to discuss white rapper Lil Xan using the word.
"I don't usually get offended, regardless of what your nationality is if I feel like you're not using it as a racial slur," Remy said.
And Scottie Beam's facial expression promptly said it all, y'all.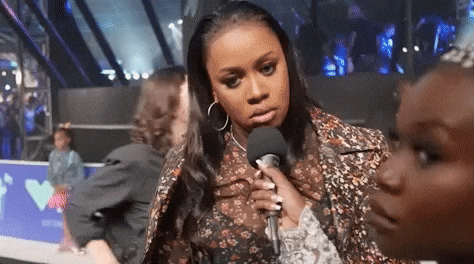 Twitter wasn't having it at all:
Remy Ma only speaks for herself on that N word comment she made the other day. #realtalk #remyma

— SplashWaveFX Beats (@SplashWaveFX) October 16, 2018
the way Scottie lookin @ Remy talkin about the N word aldhdlsjshdkdld

— t lee🐉 (@earfmuva) October 16, 2018
I dont agree on remy opinion on the use of the n word and sexual adsault on #SOTC..but I do appreciate her on the show

— The Winner is (@Maxine_Million) October 16, 2018
if remy thinks that non blacks should be able to say the n word then that's her, with her 'platform' she is normalising a word all black people don't think should be used.

— Asha🧡 (@GottaMinaj) October 16, 2018
People who think Scottie beam should go are problematic Af and young, she is the one with sense and on the right side of all issues, Remy is not offend when non blk ppl use the N word? Are you Dumb? #SOTC

— Brownie A La Mode🍫 (@ImaGeek0513) October 16, 2018
Peep the discussion below, and let us know your thoughts.