Serena Williams Returns To Her First Grand Slam Match As A Mother, And Served Superhero Realness While Doing It
Lookin' like a Grand Slam Black Panther!
Ever since Serena Williams gave birth to the beautiful baby girl and future legend Alexis Olympia Ohanian, Jr., we've all been eagerly awaiting her return to the tennis court. Of course, Williams was just as eager herself, given that tennis is so much a part of her life and is her passion.
On Tuesday, May 29, Williams returned in legendary fashion, competing in the French Open, Yahoo reports.
Williams hadn't played in a major tennis tournament since her January 2017 Australian Open win, which she copped while pregnant with little Alexis Olympia.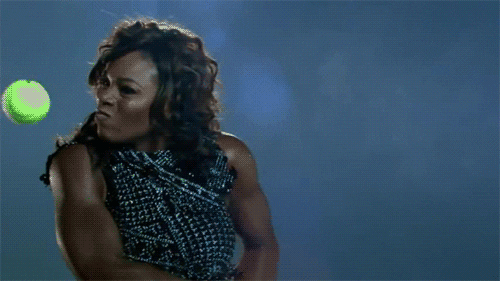 And she returned in style! Instead of donning a sleek skirt or dress set, Williams went for a black Nike bodysuit with a red stripe across her midriff, looking like The Incredibles did a crossover with Black Panther.
Williams' return was the stuff of legend, and fans made sure to express their glee on Twitter.
Following her return to grand slam tennis after having her baby girl, Serena Williams wears a full, skintight bodysuit & braids in her first match at the French Open. You can't tell me she ain't the GOAT #RG18 pic.twitter.com/YjJmEkcjz6— Troy (@Troy_Official) May 29, 2018


I am absolutely living for Serena Williams' bodysuit. The queen has returned.
???????? pic.twitter.com/xQ7JWQwYpZ— ⭐ amy o'connor ⭐ (@amyohconnor) May 29, 2018
Serena Williams is on the scene of the French Open, but also suited up for the secret assassination mission later in the evening. pic.twitter.com/zSDBrKfPEI— Oliver Willis (@owillis) May 29, 2018
Goodbye world. I am dead. Serena Williams wears a body suit at the #FrenchOpen. pic.twitter.com/gaf1dARkoT— John Thrasher (@jthrasher) May 29, 2018
Serena Williams, always one to make a fashion statement, is wearing a full, skintight bodysuit in her 1st major back from maternity leave. #RG18— Matt Dowell (@TheMattDowell) May 29, 2018
Serena Williams came to @rolandgarros dressed as a super hero and I am ALL ABOUT IT. pic.twitter.com/soSeKs3jb1— Kedzie Teller (@Kedz) May 29, 2018
Some superheroes wear capes.
Others wear black bodysuits.

We see you, @serenawilliams.

???????? pic.twitter.com/7dSTbKFfkr— Miami Open (@MiamiOpen) May 29, 2018
The catsuit is back and it's having my queen looking like a superhero! ???????? #slay @serenawilliams #FrenchOpen2018 #RolandGarros pic.twitter.com/PKYFNHMq5E— Jason Collins (@jasoncollins98) May 29, 2018
So, did she win her match?
Is water wet?! Williams defeated Kristyna Pliskova 7-6, 6-4 following a tiebreaker in the first set. This is Williams' first Grand Slam match win since becoming a mother, according to the Associated Press.
Just another victory to remind us that she is, forever and always, the GOAT.