Young black talent should never go unrecognized. That's why everyone should get into the artwork of Kareem Waris Olamilekan, an 11-year-old artist from Nigeria whose life-like work is garnering the attention of folks from his community and French President Emmanuel Macron.
Olamilekan actually met with Macron last week in Lagos to showcase his work:
Describing his art as "hyper-realism," Olamilekan began drawing at 6-years-old, and advanced to professional status at the age of 8, when he became the youngest professional artist in Nigeria, according to DD News.
Naturally, the young artist uses his family and surroundings as his inspiration.
"The inspiration behind it is that something going on around me, especially my family. The sweat on it symbolizes hard work and struggling. And the spoon symbolizes food. Everybody in my society has little now, or my streets, they struggle, struggle, they sweat for their eats," said Olamilekan.
"He can go far, farther than even beyond our expectations, because I believe with what he has been doing, he's going somewhere greater. We used to tell him don't see yourself like a roadside artist. Believe you can have a name like Michelangelo, like Davinci," said Adeniyi Adewole, who teaches Olamilekan and other young artists at an arts academy in Lagos.
Olamilekan hopes his works will be displayed in international museums and that his name will be well-known for years to come. Looks like he's on the right path.
Black Boy Joy in full effect!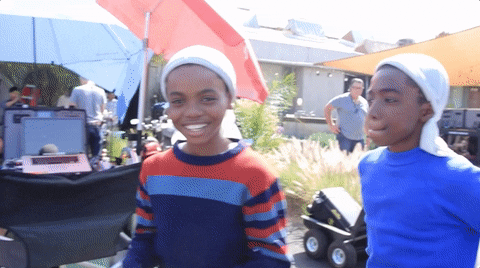 Liking this content? Check these out:
13 Incredible Black Artists, Past And Present, Everybody Should Know
Here's The Scoop On The Talented Group Of Young, Nigerian Dancers From Viral Video Praised By Rihanna, Diddy
The Video Director Behind The Prolific 'This Is Nigeria' Music Video Is 23-Year-Old Prodigeezy