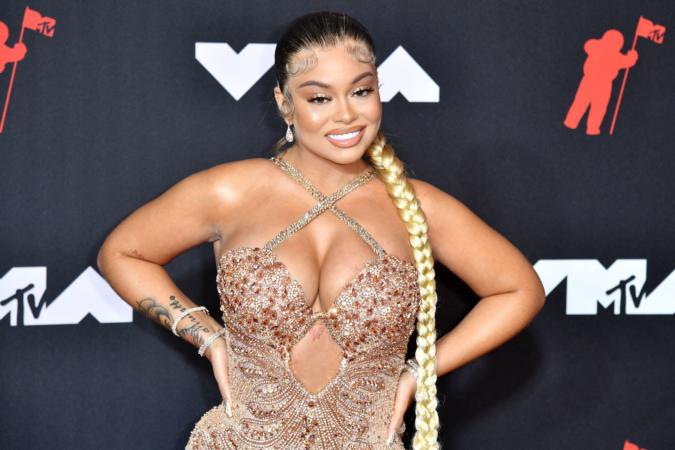 Twitter Speculates Which Male Rapper Tried To 'Drop Nuts' On Latto
Latto recently unveiled the track list for her sophomore album, and Twitter detectives are working to uncover which feature she was referring to in her latest interview.
March 23, 2022 at 1:26 am
Everyone seems to be asking the same question: Who was Latto referring to in her recent sit-down?
During an interview with Big Boy TV, Latto dished on her upcoming sophomore album, 777. In the 47-minute interview, the rapper began speaking on an unexpected roadblock she encountered while trying to clear a feature with a male artist, as Blavity previously reported.
"I'm clearing my album right now, and it's been, like, difficult to deal with these men. They don't know how to keep it business," she said. "It's a feature on my album that it was difficult to clear, and they like trying to drop their nuts on me because I won't respond to a DM."
"Man, these folks be trying to drop nuts on female rappers, like I'm not gonna shut up about it," Latto continued. "We tolerate too much. We think, 'Oh, well, that just comes with the game [of] being a female rapper.' Well, it shouldn't, though. It shouldn't."
She added that, while she was "rubbed the wrong way," she still loved the song and "didn't want to not put it on my album." Latto also said she felt as though she "had no choice" but to keep the track.
It's also important to mention that Latto clarified that she was not talking about 21 Savage, as she previously revealed that they had a song dropping.
Latto said there is a male feature on her album & he gave her a hard time clearing the track because she wouldn't sleep with him. pic.twitter.com/r6fQLVoQN4

— Kryse Essence Hall (@DontBePoorGirl) March 18, 2022
People immediately began buzzing and accusing Kodak Black of being the prime suspect—especially since he recently made comments about how female artists like DreamDoll and Yung Miami should "let [him] smash 'cause the music is trash," as Blavity previously reported.
I know Latto talking about Kodak Black cuz Dream Doll tried it a month ago lol pic.twitter.com/SWxRZEu8AE

— muliani (@MulianiEnt) March 19, 2022
Then, yesterday, Latto unveiled her highly anticipated tracklist, including its upcoming features. The list consists of 21 Savage, Lil Wayne, Childish Gambino, Lil Durk, Nardo Wick, and Kodak Black. There's also one more feature on the bonus track that's still being kept under wraps.
7️⃣7️⃣7️⃣ 3/25. BE Remix 3/28. Pre-save link https://t.co/D5aDui2pnR pic.twitter.com/CBhpzRVV9j

— BIG LATTO 🎰 (@Latto) March 21, 2022