Issa Rae Finally Gives The Full Story Behind That Rumor That She Shot Drake Down
According to the blogs, Rae took the concept of "Nice for What" to another level.
August 10, 2018 at 2:37 pm
Issa Rae had allegedly taken the concept of "Nice for What" to another level when she saw Drake at a Golden Globes party. While the award-winning actress and writer is flattered by the rumors, she made it known that she would never turn down Drizzy.
The Insecure star appeared on The Late Show with Stephen Colbert to talk about the upcoming third season of her HBO hit and what we can expect to see from her in the forthcoming months. While discussing her attendance at award show parties, her proximity to Drake at one of those events was brought up.
Earlier this year, a few blogs suggested Drake shot his shot at Rae, only to be turned down. While Rae quickly took to Twitter to shut down the notion, we never got the full story of what happened until now.
*Obsessed Fan Who Dedicated Entire Season to Artist Continues to Shamelessly Fangirl When She Sees Him at Party Later https://t.co/RggtVnc55f

— Issa Rae (@IssaRae) January 12, 2018
"I was headed to the HBO party as I should, and he was leaving the HBO party, and so we crossed paths," Rae told Colbert. "He said the most magical words ever."
"What?" Colbert probed.
"I've been looking for you all night," Rae recalled.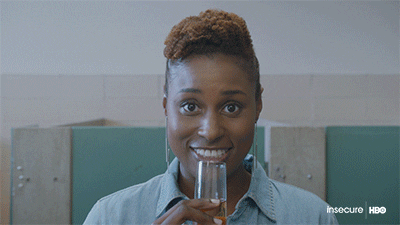 Rae then explained that Drake asked her to come to the Netflix party with him; however, she needed to hit the HBO party. Therefore, she declined his invite for the time being.
"That would never happen," Rae addressed the speculation that she turned him down.
There was no love lost between the two as Rae had a role in Drake's "Nice for What" video following the encounter, which she described as a "dream come true."
Along with showcasing other monumental black women such as Tiffany Haddish, Tracee Ellis Ross, Misty Copeland and Yara Shahidi, the video was also directed by a young black woman, Kareena Evans.
Season 3 of Insecure premieres Sunday, August 12.
Check out the full interview below.
Liking this content? Check these out:
Issa Rae Destroys Kanye In Just 20 Wirds While Hosting Awards Show — And His Wife Was In The Audience
6 Bombshells You May Have Missed On Drake's 'Scorpion'
The Truth Behind Drake's Leaked Blackface Photo Isn't Exactly What We Expected