Chance the Rapper recently proposed to his girlfriend, Kirsten Katrina Corley, who is also the mother of his two-year-old daughter in the most laid back way possible: at a summer cookout. Many Chance fans thought it was a sweet gesture, but, of course, when you're a celebrity there's always room for shade.
Twitter user @Its_RianM wasn't here for the extra chill and thought the proposal was "trash":
Can I be honest? I really thought Chance the rapper proposal was extra hot smelly trash. I'm all for keeping it simple but 5 years and kid. She deserved a little more effort. It was kinda fuck boyish like well I guess we can finally get married

— Beloved Son Rian (@Its_RianM) July 5, 2018
According to a screenshot shared by the same user, Chance promptly hopped into those DMs to let him know he wasn't okay with the criticism:
So @chancetherapper decided to search his name on twitter and saw what I said about his proposal. Then took it upon himself to DM me. To respond to your statement I thought it was wack and I think you are too. Don't DM me. pic.twitter.com/VfpuT0VoZx— Beloved Son Rian (@Its_RianM) July 5, 2018
The rapper dropped the whammy and ended the DM with "get off my d*ck." The screenshot got some traction, causing some fans to chastise Chance for reacting so harshly. That only made Chance more angry. So he got froggy once again:
So @chancetherapper is still deciding to dm me instead of just @ me. pic.twitter.com/3eWSGaik0O— Beloved Son Rian (@Its_RianM) July 5, 2018
"You have expectations for my personal life, but you don't have access to my life in that way that would ever allow you to understand any of the emotions evoked by me and my fiancée getting engaged in the place we did … You saw a small amount of info on a blog somewhere," Chance wrote in the DM.
Oop! Looks like the fan had shade, but Lil' Chano wasn't in the mood for it!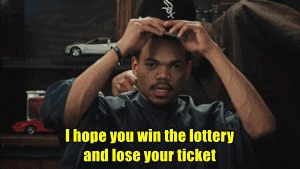 Everyone had their hot takes regarding the back-and-forth, including popular ESPN sports journalist Jemele Hill:
Unpopular hot take: I don't mind if people have an opinion on the lives of public figure, because that comes with the territory. But realize, they do have a right to respond and that's not being sensitive either.

— Jemele Hill (@jemelehill) July 5, 2018
fair to respond, I have a problem with the DM because I think it was fake of him to slide there. When I tweeted that I did not like his propose I had no retweets because it was just 1 opinion mine, a friend actually said she liked it. I didn't mention his @ because unnecessary

— Beloved Son Rian (@Its_RianM) July 5, 2018
Fair. But it's possible he responded via DM so as not to turn it into something bigger. Though i guess that happened anyway. I've done that before because i wanted to find out what was up with a particular person but didn't want to do it in front of an audience

— Jemele Hill (@jemelehill) July 5, 2018
and honestly, I have like 500 followers wasn't expecting this to come from it, when I tweeted it originally I expect 3 friends to comments max. I'm not in influencer, I'm tweeting bored at work.

— Beloved Son Rian (@Its_RianM) July 5, 2018
But that's the visibility thing Chance is dealing with too right? Like unexpected commentary on something and it triggered his fight or flight response. Making him dm you. It's all relative I guess.

— M'BlockU (@rodimusprime) July 5, 2018
You don't get to comment on my life, say what you want, but I gotta stay quiet. Trust me, most people could not handle being under constant scrutiny.

— Jemele Hill (@jemelehill) July 5, 2018
Liking this content? Check these out:
Chance The Rapper Gets Engaged To Longtime Girlfriend Kirsten Katrina Corley In Immensely Chill Cookout Proposal
Chance The Rapper Hosts Children's Night At Chicago's Field Museum To Benefit The Homeless
Chance The Rapper Isn't Here For Chicago's New $95M Police Academy