As you may know by now, the Lakers are the newest members of the Los Angeles LeBrons — er — LeBron James is the newest member of the Los Angeles Lakers.
James publicly stepped onto the court in the team's world famous purple and gold for the first time to attend a Summer League game in Las Vegas on Sunday, and received a standing ovation.
LeBron James enters w/ Lakers shorts to a standing ovation from Lakers fans at Las Vegas Summer League pic.twitter.com/TPWwc4UvOj— Ben Golliver (@BenGolliver) July 15, 2018
Given he didn't leave the league, Bron was bound to come face-to-face with his former leader, Cleveland Cavaliers Head Coach James Tyronn Lue, sooner or later, and it turns out Sunday was the day.
Ty Lue and LeBron pic.twitter.com/mVESJn6bm1— Rob Perez (@World_Wide_Wob) July 15, 2018
LeBron + Ty Lue 🤝 pic.twitter.com/BnflHnHKFr— SportsCenter (@SportsCenter) July 15, 2018
A couple captured photos of their interaction looked awwwwwwkward ... which means, Twitter had fun with the moment and memed it up:
This that "yeah man I'll let you know" look pic.twitter.com/ux3hAYLbWn— Jasmine (@JasmineLWatkins) July 15, 2018
This is the most "imma keep it real withchu, Chief..." photo of 2018 pic.twitter.com/splm5csOnT— Kazeem Famuyide (@RealLifeKaz) July 16, 2018
Tyronn Lue: "Y'all still hiring?"

LeBron: https://t.co/2iu9bsFWP5— Mike Chan (@iamnotmikechan) July 16, 2018
"Give Magic my number" https://t.co/v51mnjk62G— Carter II (@MrCarter386) July 16, 2018
Some users even compared the meeting with running into an ex:
When you and your ex tryna be "just friends" https://t.co/eg0NoAqq73— Ju Sy-ah 🇳🇬🇨🇲 (@allhail_vtine) July 16, 2018
Ty Lue asking LeBron for advice on how to coach the Cavs pic.twitter.com/bMh6wsnCky— Matt Eisenberg (@matteisenberg42) July 16, 2018
Ty Lue asking lebron why he dont answer the phone no more 😂😂 pic.twitter.com/TBA7D3jdL8— wolf (@wolfamonglamb) July 16, 2018
When LeBron told Ty Lue he had to actually coach this season pic.twitter.com/ZvTmuQeVsb— Justin Ⓥ (@CleFanForLife) July 16, 2018
Of course, users couldn't resist throwing some shots at J.R. Smith:
LeBron: "So how JR been doing these days?"

Ty Lue: "He still don't know you went to the Lakers man"

LeBron: "Hahaha you gonna tell him?"

Ty Lue: "Nah probably not" pic.twitter.com/jSm56R25oA— A-Roz (@ARozYoutube) July 16, 2018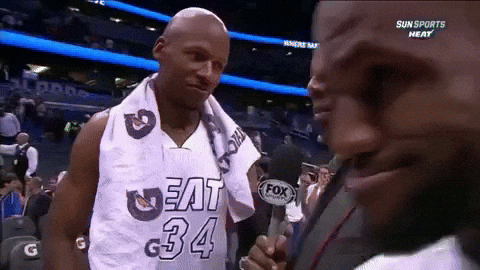 Twitter, never change.
Liking this content? Check these out:
LeBron Is Heading To Los Angeles, But Not Before The Internet Gets Their Jokes Off
Lebron James Channeled Every Fed Up Black Aunty While Strolling Out On Reporter's Question
'Damn Cameras': LeBron James Had No Idea We Were Using His Reaction To J.R. Smith's Mishap To Live Our Best Cyber Lives