There are a select group of internet memes that will go down in pop culture history. There's the OMG Wow! meme, SpongeBob meme after SpongeBob meme and there is, of course, the ever-classic Confused Nick Young meme.
You know the one: Nick Young — aka Swaggy P — breaks the fourth wall The Office-style, looking confused AF. Once someone added three question marks to the gif, it was a wrap and history was made.
Due to the super fast, viral nature of the internet, it's easy for people to latch onto a meme without knowing its origins. That's why Black Twitter Meme History exists. And just in time for Mother's Day, All Def Digital put in the work to uncover the source of the Confused Nick Young face meme.
Happy Mother's Day pic.twitter.com/sIwW3fhZXs— All Def Digital (@AllDefDigital) May 13, 2018
In the newly unearthed video, Young's mother recalls how Young became the athlete he is today. She says Young would play around a nearby park with local pro athletes, and they would say, "If that boy ever takes it seriously, he'll be great."
After being reminded of that, Young's mother hits him with the ultimate roast, "But he was a clown, then."
Cue Confused Nick Young face.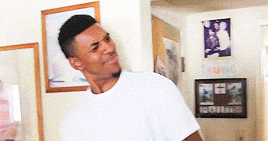 The video drew a lot of different reactions. Some people were surprised to learn the man in the video is none other than Golden State's Nick Young, while other wondered just who Nick Young is.
I…. never knew this was Nick Young https://t.co/V4wDGAmNbm— ???? (@dancekotadance) May 14, 2018
Look man when I found out the man who gave us that reaction image was the same man who gave us this gif, I was a changed man. God bless Nick Young the meme farm. pic.twitter.com/vybhORr2YP— yeetza hut (@CullenAndamnson) May 14, 2018
How many of us know the meme but never saw the video ????????????????????‍♀️— palePumps (@palePumps) May 14, 2018
How many know the meme but also knows who the person is ????‍♂️— mithrs (@mithrxs) May 14, 2018
Who?!?!! pic.twitter.com/8oiBeoMo1T— palePumps (@palePumps) May 14, 2018
In typical internet fashion, people responded to this meme with other dope memes; memeception at its best. This culminated into yet another origin story revelation for someone who didn't know the source of another popular meme:
Mind blown! pic.twitter.com/CxNms67Bw3— palePumps (@palePumps) May 14, 2018
Since we're on the topic, where's this "mind blown" meme from?— Kwaku (@Kwaku_waku) May 14, 2018
The show "The Wire"— Mandy (@mandysomean) May 14, 2018
Shout-out to Wee-bey.
And if you don't know, now ya know!